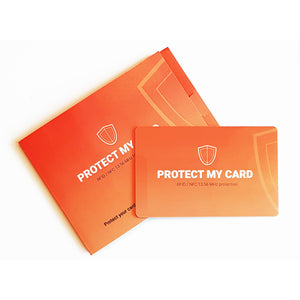 PROTECT MY CARD - Safeguard Your Contactless Bank Cards
Worried about digital pickpocketing and fraudulent card use?

Say goodbye to your worries with our cutting-edge Card Protector!


Key Features:


Protect Your Bank and Credit Cards:
Keep your hard-earned money safe from digital thieves and unauthorized scans. Our Card Protector acts as a powerful shield against contactless card data theft.


Easy to Use:
Simply place the Card Protector in your wallet alongside your bank and credit cards. No complicated setup or batteries required!


State-of-the-Art Blocking Antenna:
Our Card Protector boasts a high-tech blocking antenna that renders your contactless card data completely unreadable. Its advanced technology operates within a maximum radius of 5 cm, ensuring your cards remain safe and secure.


Stay Worry-Free:
With our Card Protector, you can confidently go about your day, knowing your valuable card information is out of reach for digital thieves.


Sleek and Compact Design:
Seamlessly fits into your wallet without adding bulk. Protect your cards discreetly and efficiently!


Stay one step ahead of digital pickpockets with the ultimate Card Protector.


Shipping:

Europe: 5 -10 business days
Worldwide: 5 - 20 business days.